I find myself forgetting many things that I really want to remember. So here are some things that I found and did yesterday.
I listen to a podcast called
Craft Sanity
. This last episode was all about something called Craft in America. This is a three hour show that was on OPB last night. Here are the links.
http://www.craftinamerica.org/
Local Listings:
http://opb.org/
I found this great little movie with cockatiels and the Star Wars theme.
Very cute!
Take a
look
and turn the volume up.
On Thursday, May 17th I went to my friend's house for dinner. Her budgie Minnie had a issue with her preen gland. It was huge! I "confiscated" her bird and took her to the
avian vet
in Lake Oswego on Monday the 21st. Dr. L put her on antibiotics for 10 days and scheduled her for surgery today at 9:30 am. I drove her over yesterday morning. It has been really hot here so I wanted to take her early to avoid any heat issues.
Here are some cute bird pictures. Minnie was not too happy about the camera.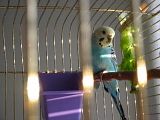 I will find out more later today.